Artificial Vape Chemistry and the Subject of Safety:
Are you a user of products that come from :
⁃ Capella Flavor
⁃ Flavor West
⁃ LorAnn Oils
⁃ Flavor Apprentice
⁃ FlavourArt
or other artificial chemistry compounding labs?
This blog site that you are on now "DIY-TOBACCO.NET is a niche site concerned with the extraction of tobacco essences from natural whole leaf. Some extractions by our members are from so-called cased tobacco, usually found in major blending houses that specialize in product for the pipe smoker.
However, there is a massive group of folks in the vaping world that insist on using only artificial chemistry ingredients to make a "work-a-like" tobacco. The intent there is to fool the taste buds and the brain that they are experiencing "tobacco".
The theory when using artificial chemistry that it is somehow "safer" than using extractions from natural whole leaf tobacco plants. To a professional chemist and toxicologist such statements are pure nonsense.
While natural products are an incredible choice when it comes to flavors, some folks feel they are not viable options when it comes to vape production. Why is this? While the flavor of a strawberry is unmistakable, its scent can be a little bit more difficult to produce through natural extraction methods. This is true with a wide range of fruits and other botanicals, and to some extent it is true in extractions of tobacco for vaping. It requires great skill and experience to successfully extract tobacco essence from pure leaf botanicals that will successfully vape. So the artificial vaper is, looking for, among other goals, an easy short cut by using synthetic chemicals.  
Synthetic aroma compounding uses many different chemicals to simulate the natural scents of many different flavors. From scents such as raspberry, vanilla, and coconut to aromas like tobacco. These synthetic aroma chemicals are produced using technologies from the commercial ingredients industry. If you were to drink a glass of strawberry juice a century ago, chances are that the juice was organic and the strawberries real. Nowadays, if you were to scrutinize the labels, you would find that the juices aren't authentic, but rather processed. In that process, manufacturers legally add flavors created in labs to replicate the same taste.
But questions immediately arise:
1.) Are these lab created chemical vape cocktails safe?
2.) Is it even possible to use artificial lab food science chemistry to successfully mimic Tobacco?
SAFETY:
One big issue is that due to the way taste buds and your brain interpret favors, smell, and the nature of an essence the food chemist must add much more to the final product than just the single molecule: Just the flavor molecule isolated alone won't do the trick. Here is a list of those common additives: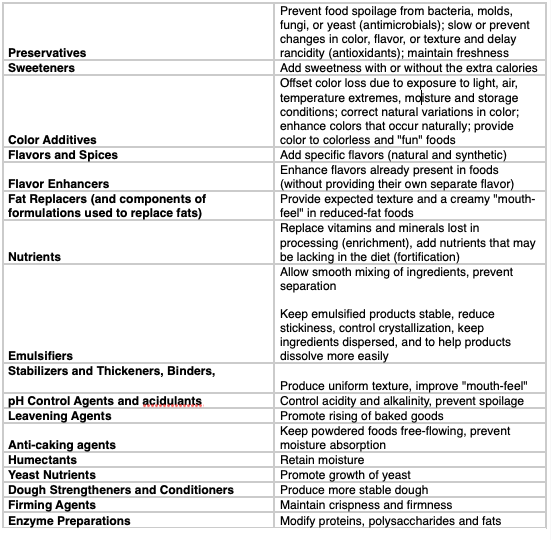 The above is a category list only. The actual number of these chemical molecules that fall in to each of the above categories runs to the tens of thousands of individual molecules. There is no way all these molecules can be tested for safety. And what is worse, since they are not required to be listed on the label, you have no way of knowing what chemical cocktail has been added to your vape juice.
Today, food and color additives are supposedly strictly studied, regulated and monitored by the FDA which has the primary legal responsibility for determining their safe use.
However this is more or less a lie. The lie stems from the fact that there are several HUGE exemptions to the testing of these ingredients:
Under the Food Additives Amendment, two groups of ingredients were exempted from the regulation process.
GROUP I - Prior-sanctioned substances - are substances that FDA or USDA had determined safe for use in food prior to the 1958 amendment. Examples are sodium nitrite and potassium nitrite used to preserve luncheon meats.
GROUP II - GRAS (generally recognized as safe) ingredients - are those that are generally recognized by experts as safe, based on their extensive history of use in food before 1958 or based on published scientific evidence. Among the several hundred GRAS substances are salt, sugar, spices, vitamins and monosodium glutamate (MSG). Manufacturers may also request that FDA review the industry's determination of GRAS Status.
When evaluating the safety of a substance and whether it should be approved, FDA considers: 1) the composition and properties of the substance, 2) the amount that would typically be consumed, 3) immediate and long-term health effects, and 4) various safety factors. The evaluation determines an appropriate level of use that includes a built-in safety margin - a factor that allows for uncertainty about the levels of consumption that are expected to be harmless. In other words, the levels of use that gain approval are much lower than what would be expected to have any adverse effect, but they also might be much lower than what is finally compounded into the artificial vape product that you consume
Because of inherent limitations of science, FDA can never be absolutely certain of the absence of any risk from the use of any substance. Therefore, FDA must determine - based on the best science available - if there is a reasonable certainty of no harm to consumers when an additive is used as proposed.
Fully SYNTHETIC AROMATICS:
Synthetic aromas are capable of providing virtually any kind of fragrance profile for any kind of market. And they are finding their way into many artificial tobacco vape products. This is a new and rapidly expanding area of flavor science. But is it safe?
Here is a short list of a hundred of these compounds. You can look at the toxicity of each by using the FEMA or CSA number and looking them up at the valuable resource called: TOXNET at
https://www.nlm.nih.gov/toxnet/index.html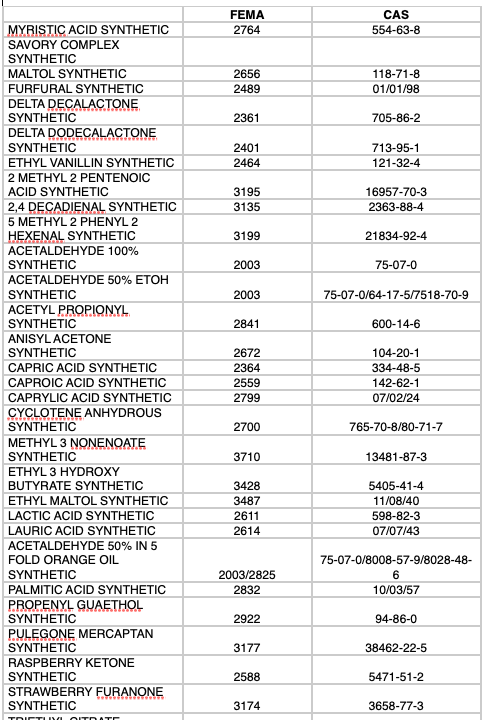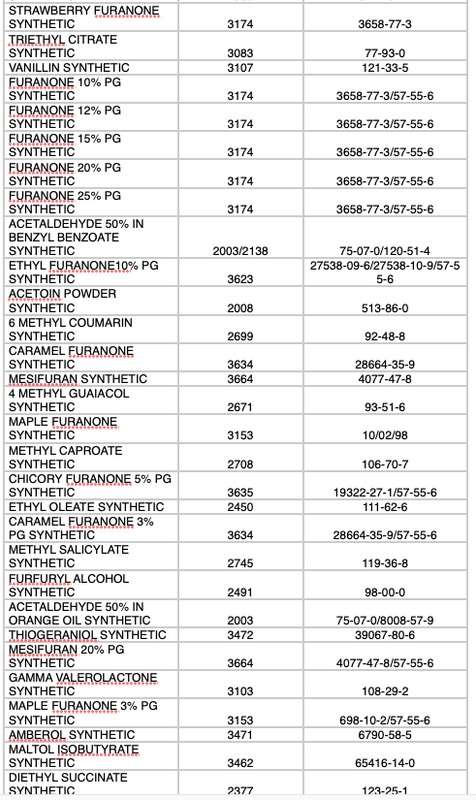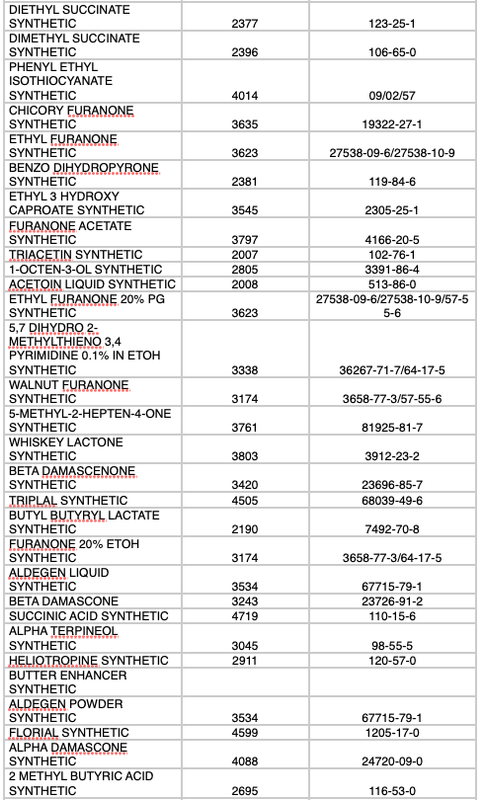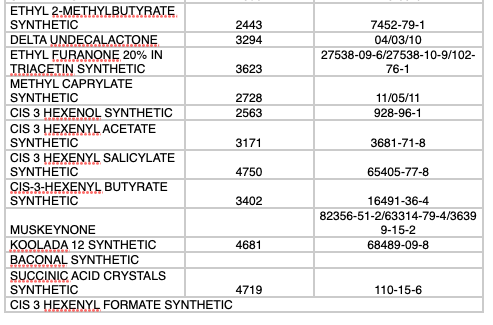 Is it even possible to use artificial lab food science chemistry to successfully mimic Tobacco?
The flavor chemistry of real naturally grown leaf tobacco is actually much more complex than the available raw synthetic chemistry that is routinely used in the food science lab.
For example it is known that carotenoid degradation products such as beta-ionone, damascenone, beta- damascene, 2,2,6-trimethylcyclohex-2-ene-1,4-dione and the rnegastigmatrienones are important to the aroma of flue-cured and burley tobacco, as well as to many other natural tobacco products . This is chemistry that is far too complex to economically reproduce in a commercial food science lab.
The food sciences business is very price sensitive, and the major goal is to make an acceptable work-a-like flavor profile that is much cheaper to produce than harvesting and processing the natural product. For example, say you want to make a new version of an existing product, let's pick something like the ubiquitous cup of brewed coffee. Like tobacco, the processing and roasting of coffee beans is so complex from both a mechanical point of view as well as the constantly occurring chemical reactions at each of the processing stages that it is impossible to reproduce it in the lab. And even if you could get close the cost would be hundreds and thousands of times greater than just using naturally grown and harvested beans.
Since I mentioned instant coffee, let's look at what the food chemist had to add to it to get it to resemble a brewed cup of coffee:
⁃ Sodium stearoyl lactylate - As emulsifier or stabilizer in liquid and solid edible fat-water emulsion used as substitutes for milk and cream in coffee; < 0.5% of dry weight.
⁃ Aspartame
⁃ Ethoxylated mono- and diglycerides Not to exceed 0.4% by wt of finished vegetable fat-water emulsions
⁃ Ethyl acetate - SY/FS, MISC, REG, GMP, GRAS - 182.60, In decaffeination of coffee & tea - 173.228
⁃ Polysorbate 60 (Polyoxyethylene (20) sorbitan monostearate) In veg oil/water emulsion used as milk or cream substitute in beverage coffee
⁃ Methylene chloride - SOLV, REG, < 30 ppm - As residual solvent in mfr of spice oleoresins - 173.255; < 10 ppm - In decaffeinated roasted coffee & decaffeinated soluble (instant) coffee
The problem here is obvious, none of the above list of chemicals is part of the natural brewed cup of coffee flavor profile. The above list deals with issues of stability, storage, mouthfeel, and other odd issues. Each of the above items interact and contribute off flavors and that obnoxious "artificial taste" of such products.
Summary:
It seems like an easy piece of arm-chair logic to simply say "The stuff I buy from FLAVORAH must be safer than vaping a PG extraction from pure leaf tobacco." That is easy to say, but very hard to substantiate with any real science.
⁃ First, you have no idea whatsoever the real ingredient list in the artificial sample.
⁃ Second, you have no assurance that the quantity of any particular ingredient is below its GRAS (generally accepted as safe) level.
⁃ Third, some of these compounds in their pure form are highly toxic at very low levels. An Example: A commonly used "Flavor Enhancing Agent" (used in many commercial artificial vape formulas) -->From PubChem: 12.1.9 Human Toxicity Excerpts /SIGNS AND SYMPTOMS/ Prolonged exposures to n-butyl lactate at concentrations of approx. 7 ppm with short, peak exposures of 11 ppm resulted in headache and irritation of the pharyngeal and laryngeal mucosa, with coughing
⁃ The Example above is a toxicity level at
only 7 parts per million
.
Lab created chemistry can be very toxic at very low levels !
Do your own research and do your own due diligence. Continue to explore the subject matter. And remember: Do not be lolled into a false sense of security, just because a chemist made it in a lab does not mean it is harmless.