Well I originally was going to post a review of the flavor profiles of some of the Want2Vape products (see
https://www.want2vape.com
)
but....
I have on hand these that were donated to me several years ago;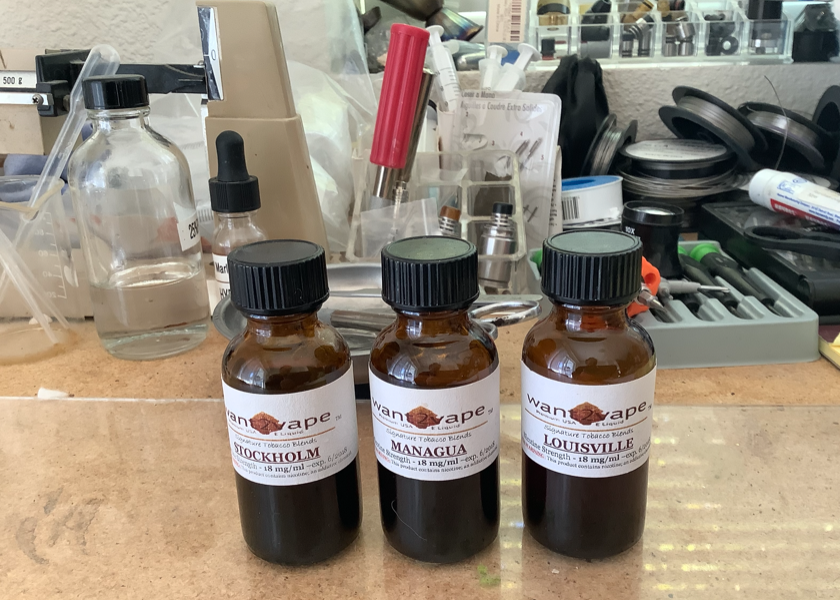 so thought I would return to their main store on the web to look over their their current list of tobacco NETs.. As most of you know, Want2Vape was one of the pioneers of true natural tobacco extraction for vaping. I fully expected to see a nice expansion of their product line, including many new and innovative pure leaf extractions.. What a surprise greeted me: The "original list" of many fine products has diminished to about 1/2 of the old stuff. All that is left from their original pure tobacco extractions is:
555.5 One of
Alcazar Cigar
Analog Mild
London Blend
Louisville Blend
Managua Blend
Morley
Paris Blend
Red Pirate
Stockholm Blend
The "Blond"
But what has been added as 'new' is:
I Cigar - Notes of peach, pine, green tea and more. The non-tobacco elements
Campfire Coffee - sweetness. A very solid coffee vape.
Citrus Brew - A refreshing lemon-lime vape
Coffee-Infused Cigar - rich, sweet coffee-infused cigar
Creamy Espresso - rich, creamy tribute to coffee
Creme Brulee' - Sweet cream and caramel
Crimson Bull - energy drink taste-a-like
EcoBerry - Fresh berries like a fortified bowl of berries
Mystical Menthol -
Peach Sensation - Peach flavor so big
Peanut Butter Cup - butter and jelly, chocolate and peanut butter
PURE - sweet, cotton candy.
Rock Star - RY4. Tobacco, creamy caramel, and a secret ingredient.
RY4 - like a sweeter RY4, Caramels and a Lab extracted Vanilla.
Summer Fruit - Strawberry, Peach and Banana blended
Wild Cherry - our delicious natural cherry
well, what can I say ? It is very disappointing, and a little sad.